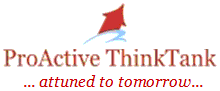 23 September 2009
Dear All,
Welcome to the seventh ProActive ThinkTank email Update.
The preliminary programme of our meetings in Nancy, France, is now available, and a number of new publications are out since our last Update in July:
First European Proactive Law Symposium in Nancy on 14 October 2009: "Contracting and Law - Proactive and Innovative Approaches"
The Symposium is organized by ICN Business School in partnership with CEREFIGE (Centre Européen de Recherche en Economie Finance et Gestion), International Association for Contract and Commercial Management (IACCM) and the ProActive ThinkTank. Below is the preliminary agenda of the event. For registration (until 1 October 2009) and other details, please go to https://www.etouches.com/ICN1.
Location: ICN Business School, amphitheater SNVB, 3rd floor, 13, rue Maréchal Ney, 54000 Nancy, France
Program Outline 14 October 2009
8:30 – 9:00
Registration and Networking
9:00 – 9:15
Welcome
Dr. Gerlinde Berger-Walliser, Associate Professor, ICN Business School and Tim Cummins, President and CEO, IACCM
9:15 – 10:00

A Paradigm Shift through the Proactive Law Approach?
Helena Haapio, International Contract Counsel, Lexpert Ltd

EESC Opinion on the Proactive Law Approach: a further step towards better regulation at EU level
Jorge Pegado Liz, Chairman of the Single Market Observatory (SMO), European Economic and Social Committee

10:00 – 10:30
Crisis Handling through Contracts
Dr. René Franz Henschel, Associate Professor Aarhus Business School, CEO, Henschel Contract Management
10:30 – 11:00
Coffee break
11:00 – 11:30
Consent, Power, and Trust in Contracting
Professor Thomas D. Barton, California Western School of Law
11:30 – 12:00
Bridging the Gap between Management and Law
Panel Discussion
12:00 – 14:00
Lunch

14:00 – 14:30
Better Business through Contract Productization and Visualization
Katri Rekola, PhD (econ.), MSc (eng.) and Helena Haapio, PhD Researcher
14:30 – 15:00
Proactive Law and Consumer Protection
Kaisa Sorsa, PhD (econ.), Master of Law, Principal Lecturer, Turku University of Applied Sciences
15:00 – 15:30
Break

15:30 – 16:00
Arbitration Clauses in International Transactions: IACCM Survey Results
Nancy S. Kim, Associate Professor, California Western School of Law
16:00 – 16:30
Proactive Contracting as an Evolving Academic Discipline
Panel Discussion
16:30 – 17:00
Wrapping up
Tim Cummins, President and CEO, IACCM
17:30 – 18:30
ProActive ThinkTank core group meeting

19:30
Conference Dinner

- This Program Outline is preliminary and subject to change. -
Cost Overview: Charges for academics: 100 EUR - Charges for practitioners: IACCM Members 125 EUR, others 175 EUR. Optional Conference Dinner and Cocktails: 60 EUR.
Upcoming Meetings in Munich and Salzburg
As regards research related to visual and other innovative approaches to law, there are two further upcoming events of special interest:
The Conference on Legal Visualisation, Audio-Visual Law and Multisensory Law (Tagung zur Rechtsvisualisierung, zum Audiovisuellen und zum Multisensorischen Recht) in Munich, Germany, on 23 and 24 November 2009, see http://www.rwi.uzh.ch/oe/zrf/abtrv/konferenzen/2009/Muenchen.html; for additional information, please contact Dr. Colette R. Brunschwig, University of Zurich, Legal Visualisation Unit, email: colette.brunschwig@rwi.uzh.ch.
The International Legal Informatics Symposium (IRIS 2010) organized by the Universities of Salzburg and Vienna will take place at the Law Faculty of the University of Salzburg, Austria, on 25-27 February 2010. The theme of the conference will be "Global Security and Proactive State in the Economic Context", see http://www.univie.ac.at/RI/IRIS2010/english.html.
ERASMUS Curriculum Development Project: Funding!
A consortium consisting of several universities, research organisations and ProActive ThinkTank network members has received funding for a Curriculum Development project 'ProActive Management and ProActive Business Law' (PAM PAL for short) from the Life Long Learning Programme of the European Union. For more information, please contact Kaisa Sorsa, Kaisa.Sorsa@turkuamk.fi or Anu Härkönen, Anu.Harkonen@turkuamk.fi.
In addition to curriculum development, this will help us develop the 'ProActive Handbook', a framework for bringing together and developing the proactive approach to business, law, contract management, project management, risk management, quality management, and other areas.
EESC Opinion on the Proactive Law Approach
As reported earlier,the European Economic and Social Committee (EESC) adopted its Opinion entitled The proactive law approach: a further step towards better regulation at EU level at its plenary session on 3 December 2008 by 155 votes, with no voice against it. The Section for the Single Market, Production and Consumption (SMO) was responsible for preparing the Committee's work on the subject. The Rapporteur was Jorge Pegado Liz, with Helena Haapio acting as Expert. Both will speak at the Nancy Conference.
The Opinion has now been published in the Official Journal of the European Union, in all official EU languages. see OJ C175 28 July 2009 at page 26 onwards (English edition http://www.juridicum.su.se/proactivelaw/main/eesc/ces1905-2008_ac_en.doc). As the pioneers of the Proactive Law approach in various countries know, many languages have lacked the words to even describe the approach. Now we do have the words and are better equipped to research and develop the topic further, apply it in practice, and share our experiences.
In the Opinion, the EESC urges a paradigm shift in EU law. "While responding to and resolving problems remain important, preventing the causes of problems is vital, along with serving the needs and facilitating the productive interaction of citizens and businesses. Proactive Law is about enabling and empowering - it is done by, with and for the users of the law. The application of the Proactive Law approach should be considered systematically in all lawmaking and implementation within the EU. The EESC strongly believes that by making this approach not only part of the Better Regulation agenda, but also a priority for legislators and administrators at the EU, national and regional levels, it would be possible to build a strong legal foundation for individuals and businesses to prosper."
Publications and Plans
Since our last Update (July 2009, see www.proactivethinktank.com -> Email update 2-2009), the following books, articles and conference papers with a proactive emphasis have been brought to our attention:
Thomas D. Barton: Preventive Law and Problem Solving. Lawyering for the Future Vandeplas Publishing 2009. Building on the author's long-standing interest in the complex relationships between problems and the procedures employed for their resolution, the book explores, i.a., how legal problems may be prevented and how lawyers may proactively assist clients in identifying and reaching their goals. For more information, see http://vandeplaspublishing.com/store/product.php?productid=96
The above book includes as Chapter VIII (Proactive Law: Cross-Border Contracting) an article by Helena Haapio, Invisible Terms & Creative Silence: What You Don't See Can Help or Hurt You in Cross-Border Contracts. A revised version of the article has also been published in the September 2009 issue of the Contract Management Magazine, see http://www.ncmahq.org/publications/cmmcurrentissue.cfm
Henry W. (Hank) Jones, III: Envisioning Visual Contracting: Why Non-Textual Tools and Content Will Improve Your Contracting International Association for Contract and Commercial Management (IACCM), Contracting Excellence, August 2009, available at http://www.iaccm.com/contractingexcellence.php?storyid=949
We have been informed that at least one more book with a proactive emphasis is already on its way. More details will follow. If you have a book idea or are about to update a current book you have authored, please consider adding a proactive emphasis to it. The ProActive ThinkTank Core Team would like to hear from you – maybe we can work together to develop the idea further.
Watch out for more information. For earlier Updates, please go to http://www.proactivethinktank.com.
We look forward to seeing you in Nancy in October and to receiving your thoughts, ideas and comments.
Contacts
Helena Haapio
Linda Baines
Claude Mayer
Kaisa Sorsa
Eric van de Luytgaarden
René Franz Henschel
Gerlinde Berger-Walliser
PS. If you are interested in our work and have not yet notified us of your interest, please contact one of us, and we will add your email address to our mailing list. If you need to update your contact information or no longer wish to receive updates from us, please let us know.