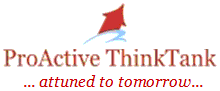 17 July 2009
Dear All,
Welcome to the sixth ProActive ThinkTank email Update.
Please save the date for our forthcoming meeting in Nancy, France:
Meeting in October 2009; First European Proactive Law Symposium
At the IACCM EMEA Conference and Symposium in London last year it was decided that the time had come to expand the networking in our field beyond the Nordic countries. In our January 2009 Update we were looking for a venue and a host, hoping to put together an event somewhere in Europe during 2009, to follow our series of bi-annual Proactive Law Conferences that have been organised by constituents of the Nordic School of Proactive Law in Helsinki (2003), Stockholm (2005), and Turku (2007) so far.
We have been kindly invited by Dr. Gerlinde Berger-Walliser (gerlinde.berger-walliser@icn-groupe.fr), Associate Professor and Deputy-Head of the Economic and Legal Environment Department at the ICN Business School, to meet at her Institution, the ICN Business School in Nancy, France, on 14 and 15 October 2009.
The first day will be the first ever European Proactive Law Symposium, with the working title "Contracting and Law - Proactive and Innovative Approaches". The second day will be reserved for IACCM events and networking. More details and a Call for Papers (in French / English) are available at http://www.icn-groupe.fr/spip.php?article382&titre_mot=public. For information about Nancy, see, for instance, http://www.ot-nancy.fr/uk/centre_historique/index.php, and about how to get there: http://www.mesd2009.org/travel.htm.
Publications and Plans
Since our last Update (January 2009, see email update 2009), the following articles and conference papers with a proactive emphasis have been brought to our attention:
Kaisa Sorsa:
The Proactive Law Approach: A Further Step towards Better Regulation
Tala, J. & Pakarinen A. (Eds.) (2009): Changing Forms of Legal and Non-Legal Institutions and New Challenges for the Legislator - International Conference on Legislative Studies in Helsinki. National Research Institute of Legal Policy. Research Communications 97, 35- 70.
Kaisa Sorsa:
Towards a Contracting Capabilities Maturity Model for Projects
Martinsuo, Miia (Ed.) (2009): Recipes for success in project-based management. Project Management Association Finland. Espoo, 187-212.
Kaisa Sorsa & Tarja Salmi-Tolonen:
Contracting Capabilities in Project Business - Proactive Management Approaches to Contracting
Kähkönen, Kalle & Samad Kazi, Abdul & Rekola, Mirkka (2009): The Human Side of Projects in Modern Business. IPMA. Scientific Research Paper Series. Project Management Association Finland (PMAF) in collaboration with VTT Technical Research Centre of Finland, 221- 236.
Katri Rekola & Helena Haapio:
Proactive Contracting + Service Design = Success!
American Society for Quality (ASQ) 2009 World Conference on Quality and Improvement, Proceedings.
Katri Rekola & Helena Haapio:
Better business through proactive productization and visualization of contracts
International Association for Contract and Commercial Management (IACCM), Contracting Excellence, June 2009, available at http://www.iaccm.com/contractingexcellence.php?storyid=906.
Soili Nystén-Haarala:
Contractual challenges in moving from products to services and solutions
International Association for Contract and Commercial Management (IACCM), Contracting Excellence, June 2009, available at http://www.iaccm.com/contractingexcellence.php?storyid=904.
For the entire June 2009 issue of Contracting Excellence in pdf format, see http://www.iaccm.com/userfiles/file/CE_2_5_press_C.pdf.
As regards books, Industrial Services and Service Contracts: a Proactive Approach by Katri Rekola and Helena Haapio has been published by the Federation of Finnish Technology Industries. For details and Executive Summary, see (http://www.teknologiainfo.net/default.asp?docId=15052&productId=15139&fromDocId=15027). We have been informed that at least one more book with a proactive emphasis is already on its way. More details will follow.
If you have a book idea or are about to update a current book you have authored, please consider adding a proactive emphasis to it. The ProActive ThinkTank Core Team would like to hear from you – maybe we can work together to develop the idea further. We are exploring the idea of developing a 'ProActive Handbook'. The aim is to provide a framework for bringing together and developing the proactive approach to business, law, contract management, project management, risk management, quality management, and other areas. The Handbook would be developed as virtual open collaboration, bringing academics and practitioners together to create a space where theory and practice meet.
Further, we continue to seek possible sources for financial support to our initiatives that would enable the ProActive ThinkTank to bring together many of the concepts, theories and practical tools that we have been developing and are exploring. If you are interested in this, please contact René Franz Henschel, Linda Baines or Gerlinde Berger-Walliser (see contact details below) for more information or to discuss.
Watch out for more information. For earlier Updates, please go to http://www.proactivethinktank.com.
We look forward to seeing you in Nancy in October and to receiving your thoughts, ideas and comments.
Contacts
Helena Haapio
Linda Baines
Claude Mayer
Kaisa Sorsa
Eric van de Luytgaarden
René Franz Henschel
Gerlinde Berger-Walliser
PS. If you are interested in our work and have not yet notified us of your interest, please contact one of us, and we will add your email address to our mailing list. If you need to update your contact information or no longer wish to receive updates from us, please let us know.