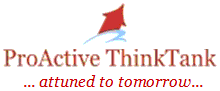 ProActive ThinkTank Update May
15 May 2008
Dear All,
Welcome to the fourth ProActive ThinkTank email Update.
There has been significant activity since our third email Update on 3 December 2007.
We have grown!
In less than one year, our group has grown from a Dozen to more than 250 participants. This clearly demonstrates the importance of our mission and vision. We are a unique group: cross-industry, global, and representing both private and public organizations, researchers and practitioners, and buy-side and sell-side perspectives.
We hope that before too long we can get together and meet in person. If you know of meetings, projects, or research topics that would be of interest to our participants, please let us know. Meanwhile, we will be working on the basis of email Updates and teleconferences.
The Book
The book, "A Proactive Approach to Contracting and Law" (Ed. Helena Haapio) was published towards the end of April, and a complimentary copy has now been mailed to all speakers and attendees of the Conference on Commercial Contracting for Strategic Advantage held in Turku on 13 - 15 June 2007. If you have not received yours – or if you did not attend but are interested in purchasing a copy, please contact publications@turkuamk.fi. For a list of contents, authors, and additional information, see http://julkaisumyynti.turkuamk.fi. The e-book is expected to be published by the IACCM later this year. For enquiries, please contact info@iaccm.com.
EESC Opinion on the Proactive Law Approach
The European Economic and Social Committee (EESC) has decided to draw up an Opinion on The proactive law approach: a further step towards better regulation at EU level. The Section for the Single Market, Production and Consumption is responsible for preparing the Committee's work on the subject, and the Rapporteur is Mr. Jorge Pegado Liz. Helena Haapio has been appointed as Expert to help prepare the Opinion.
Dubai Contracts 2008 Conference: "Proactive Contracting for the 21st Century"
This was held on 27 April – 1 May in Dubai and comprised four events: a Pre-Conference Workshop on 27 April on the Proactive Approach (Managing Contract Risks and Opportunities led by Helena Haapio); a two-day Conference on "Proactive Contracting for the 21st Century" chaired by Linda Baines (28/29 April), and Post-Conference workshops on Contract Management and the Project Lifecycle led by Brian Allan (30 April) and on proactive service design (Service Design And Contract Design – Collaborating To A Dispute-Free Future?) led by Katri Rekola. Our ThinkTank gained several new members from the UAE and Gulf area.
IACCM Americas Conference
This year's IACCM Americas Conference was held on 7 – 9 April in Scottsdale, AZ. A record 400+ attendees heard more than 30 presenters on the theme of "Collaborate to Innovate". The proactive approach was discussed in the Academic Forum, where the questions addressed included "Why isn't the 'proactive prevention movement' being embraced more broadly and more quickly? What will it take to speed up its adoption? Is what we are taught in school causing confrontational relationships? Who is preventing proactive contracting and relationship management?" The session was led by Thomas Barton, California Western School of Law.
The proactive approach was also on the agenda of the main Conference, e.g., in the presentations of James Groton (Dispute Prevention) and George Siedel (Contracts & the Law as a Source of Competitive Advantage). – For their and other speakers' presentation materials, see: http://www.iaccm.com/americas/library.php. The 2008 Academic Symposium papers include several contributions by our ThinkTank participants related to the proactive approach, see http://www.iaccm.com/loggedin/library/browse.php?categoryid=128 (for IACCM members only).
Current Developments and Future Plans
In our December 2007 Update we described how we have identified several projects that we are looking to take forward in the next few months:
1. Proactive prevention and resolution of business disputes
2. Productising (or productification of) Proactive/Preventive legal services
3. Developing a ProActive Contracting Capability Maturity Model
4. Looking at the role and competencies of ProActive professionals
5. Individual & organisational contract(ing) skills
6. ProActive tools and techniques
7. Developing a body of knowledge for ProActive Professionals
8. Taxonomy - developing concepts and terminology
Rather than looking at these projects separately, we are finding that we can develop them by combining them together into bigger programmes. These comprise:
a) a Course on Contract Management; the first Course was arranged for 2nd and 3rd year undergraduate students at Turku University of Applied Sciences (TUAS) in March 2008, as part of the Degree Program in International Business Specialization. This effort was possible with the input of our ProActive ThinkTank network. The teachers included Professor Eric van de Luytgaarden (Hogeschool Utrecht, Netherlands), Linda Baines (Science and Technology Facilities Council, UK), Claude Mayer (Hewlett Packard, Finland), Katri Rekola (Rekola Design, Finland) and Kaisa Sorsa (Turku University of Applied Sciences, Finland).
The primary aim was to promote the proactive viewpoint in legal and business studies, and the main objectives were: 1) to teach students to work with contracts and the law: contract creation, interpretation and implementation for maximizing financial and operational performance and minimizing risks; 2) to introduce the role and importance of a proactive approach to the law and to managing relationships, projects, contracts and risks; and 3) to give students practical tools for negotiating, preparing and managing contracts and to give them a valuable learning experience by offering them a combination of theoretical thinking and practical "hands on" learning situations.
40 students participated, ten of them exchange students. The feedback from the students was really encouraging. They very much liked the topic and the mixture of different teachers, with different practical and theoretical background. The challenge of lack of suitable course materials became obvious once again.
b) In order to obtain financial support to our initiative, we have submitted an application for funding for an ERASMUS project on Lifelong Learning Programme called "ProActive Management and ProActive Business Law". The aim is to develop the core curriculum, 24 ECTS, a multidisciplinary module which can be integrated to university master degree law studies or business school studies. A course handbook is also planned to be produced, to become a core reference material of the training module.
c) Along with the above, we have identified the need for a ProActive Handbook that would provide a framework for developing the proactive approach to business, law, contract management, project management, risk management, quality management, and other areas. It is planned to be a publication with contributions provided by a range of different authors. This would enable the ProActive ThinkTank to bring together many of the concepts, theories and practical tools that we have been developing and are exploring. If you are interested in this, please contact Linda Baines or Helena Haapio (see contact details below) for more information or to discuss.
Future Events and Meetings
The Conference e-Stockholm '08 that will be held in Stockholm on 17 - 19 November 2008 will offer a special track devoted to Proactive Law and IT, covering sessions on Legal risk analyses in IT Projects (chaired by Peter Wahlgren) and on Contract management and IT outsourcing (chaired by Tobias Mahler). The Conference Chair is Professor Cecilia Magnusson Sjöberg, and the speakers will include Claude Mayer and Tobias Mahler. For additional information, see http://www.juridicum.su.se/iri/e08/ or http://www.juridicum.su.se/proactivelaw/main/events.html.
The John Jay College of Criminal Justice and the International Network on Therapeutic Jurisprudence will be presenting a Conference in San Juan, Puerto Rico, on June 9-12, 2008, on Justice and Policing in Diverse Societies. The website for the conference is http://www.jjay.cuny.edu/ic/english.html. There are many panels to choose from, and contributors include Eric van de Luytgaarden (How Do Lawyers Become Better Professionals?) and Thomas Barton (Looking Ahead: Developing the Skills, Mentality, and Ethics of Therapeutic Jurisprudence/Preventive Law).
The ProActive ThinkTank Core Team will be meeting in Turku early in July 2008 (with the very kind support of TUAS and Turun Kauppaopetussäätiö). We will be reviewing the progress of the ThinkTank so far and exploring options for further development, including funding.
While details of our projects will be included in the next Update, if you are interested helping with any of these projects, then contact a member of the Core Team (see contact details below).
...
Watch out for more information. For earlier Updates, please go to http://www.proactivethinktank.com.
We look forward to seeing you at future events and to receiving your thoughts, ideas and comments.
Contacts
Helena Haapio
Linda Baines
Claude Mayer
Kaisa Sorsa
Eric van de Luytgaarden
PS. If you are interested in our work and have not yet notified us of your interest, please contact one of us, and we will add your email address to our mailing list. If you need to update your contact information or no longer wish to receive updates from us, please let us know.