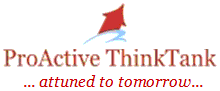 ProActive ThinkTank Update: meetings in November
Dear All,
Following our first email Update on 3 September, we have made some significant progress.
The ProActive ThinkTank – Core Group Working Session and Seminar was held at Turku University of Applied Sciences (TUAS) on 2–4 October 2007.
On 4 October, a workshop on "ProActive Leadership and the Law – An ounce of prevention is worth a pound of cure" was held at TUAS as one in a series of meetings held by the Project Management Association's Contract Management Special Interest Group and the International Association for Contract and Commercial Management (Finland). The audience of some 70 attendees heard the following presentations:
"Moving from Product Liability to Product Innovation" by George J Siedel, Professor of Business Law and Business Administration, University of Michigan Business School
"Legal Risk Management" by Sari Lintumaa, Zurich Global
"The ProActive Approach: the past, the present and the future" by Helena Haapio, Lexpert Ltd.
For the remainder of the time, the Core Team focused on developing the ProActive Think Tank's website (where we collect and share information about future events, best practice tools and techniques, case studies, training courses, materials, ongoing research, etc), a core presentation and marketing materials and a roadmap identifying the key prioritised objectives and milestones. A first draft of the website can be found at: http://www.proactivethinktank.com.
We would like to thank TUAS for their generous support and hospitality.
The Book
The authors and reviewers are currently working on the book, "A ProActive Approach to Contracting and Law" containing selected papers presented at the Turku Conference on Commercial Contracting for Strategic Advantage held 13–15 June 2007. The printed version of the book will be published by TUAS and the e-book by the IACCM. TUAS has kindly agreed to provide a free copy of the printed book to the speakers and attendees of the Conference. If you did not attend but are interested in purchasing a copy, please contact Terhi Aittonen.
IACCM EMEA Conference and ProActive ThinkTank Roundtable in November
We are working closely with the IACCM which is holding its annual EMEA 2007 Conference at The Savoy in London on 7–9 November on the theme of "Collaborate to Innovate". Professor Edward Dauer will be one of the keynote speakers. (See http://www.iaccm.com/emea/ for details and registration).
At IACCM's invitation, the ProActive ThinkTank will meet in connection with the 3rd International Academic Symposium on Commercial Management to be held in conjunction with the Conference on Friday 9 November. Participants of the ProActive ThinkTank will present papers at the Academic Symposium which is to be chaired by David Lowe, University of Manchester. We will also be introducing the ProActive ThinkTank to delegates attending the Academic Symposium.
We plan on having an informal networking event in the evening of Thursday 8 November. Whether or not you are attending the IACCM event at The Savoy, please join us in the foyer of The Savoy at 5pm. Covent Garden is 5 minutes walk from here. We will explore the area and find somewhere there to eat and drink. If you are interested or would like to find out more, contact Linda Baines.
Project Management Days in November
Our series of joint meetings with the Finnish Project Management Association's Contract Management Special Interest Group and IACCM Finland will continue with a meeting on "Designing, Selling, Sourcing and Managing Services – Contracts: the Missing Link?" on Wednesday 14 November 2006 at 3:15 pm – approximately 6:00 pm in the meeting room "Palaver" at Dipoli, Otakaari 24, Espoo. This event is open to all attendees of the Project Management Days (Projektipäivät 2007) as well as others interested in the topic and in the work of the ProActive ThinkTank. There is no charge to attend. Please register by 9 November 2007, either through http://www.pry.fi/kohtauspaikka/ryhmat.php or by e-mail to Helena Haapio. A copy of the invitation can be found here.
We look forward to seeing you at these and future events and to receiving your thoughts, ideas and comments.
Contacts
Helena Haapio
Linda Baines
Claude Mayer
Kaisa Sorsa
Eric van de Luytgaarden
PS. If you are interested in our work and have not yet notified us of your interest, please contact Helena Haapio, and we will add your email address to our mailing list. If you need to update your contact information or no longer wish to receive updates from us, please let us know.