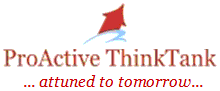 This message provides an update on developments since the Conference on "Commercial Contracting for Strategic Advantage" held at the Turku University of Applied Sciences (TUAS) on 13 - 16 June 2007, plans for follow-on meetings, and what we're aiming to do in the medium and long term.
Before we start, we want to say thank you to all of you for the support, encouragement and ideas that you've given us so far. And we hope that you will continue to contribute and share in the discussion and development of the ideas, applications and material that are starting to emerge.
How the ProActive ThinkTank has come about
The Conference in Turku was based on applying the concepts of proactive/preventive law to business and academic areas. The organisers included the International Association for Contract and Commercial Management (IACCM) Finland, the Nordic School of Proactive Law, the National Center for Preventive Law, TUAS, and the Corporate Contracting Capabilities Project Consortium.
When a break-out group of delegates got together at TUAS on 16 June, it was clear that there was real interest in finding a way of taking all the ideas and developing them further so that they can be used more widely in business, management and legal activities as well as in research, learning, development and training in these areas.
A core team was formed. (See "Contacts" below.)
Our Mission
To ensure that we keep on focus and have a framework for our activities, we have worked on a mission statement (and a logo!). We have consulted with some of you and a first draft of the Mission Statement can be found here. It's meant to encompass what the ProActive ThinkTank is about and what we are trying to achieve. The next step is for us to find ways in which we can work together to achieve our objectives. We are in the process of setting up a website where we can start collecting and sharing information about future events, best practice tools and techniques, case studies, training courses, materials, ongoing research, etc.
We will be discussing this in detail in Turku in October and in London in November. Between now and then, we would very much like to receive your comments on our mission and objectives, and to learn about your success stories, case studies and lessons learned.
The Book
We are working with TUAS' Saara Lampelo, the Turku Conference Chair, and IACCM's Tim Cummins and Katherine Kawamoto on a book, "A ProActive Approach to Contracting and Law" (working title; Ed. Helena Haapio) based on selected papers presented at the Conference. The printed version of the book will be published by TUAS and the e-book by the IACCM. TUAS has kindly agreed to provide a free copy of the printed book to the speakers and attendees of the Turku Conference. If you did not attend but are interested in purchasing a copy, please contact Terhi Aittonen.
ProActive ThinkTank - Core Group Working Session and Seminar in Turku 2 - 4 October 2007
The core team and other interested stakeholders are meeting at TUAS to explore in detail how the ProActive ThinkTank should develop and to establish a roadmap to successful implementation.
On 4 October we will organize an open Seminar on "ProActive Project Leadership and the Law", where Professor George Siedel will give a presentation on "From Product Liability to Product Innovation". The Seminar programme can be found here. There is no fee to attend. As places are limited and filling up fast, if you are interested in attending, please contact us quickly.
IACCM EMEA Conference and ProActive ThinkTank Roundtable in November
We are working closely with the IACCM which is holding its annual EMEA 2007 Conference at The Savoy in London on 7 - 9 November on the theme of "Collaborate to Innovate". Professor Edward Dauer will be one of the keynote speakers (more details and registration).
At IACCM's invitation, the ProActive ThinkTank will meet in connection with the 3rd International Academic Symposium on Commercial Management to be held in conjunction with the Conference on Friday 9 November, and will possibly continue holding its own meeting the next day. The Call for Proposals for the Academic Symposium can be obtained from David Lowe. All papers will be subject to peer review and if accepted will be published by the IACCM in the ISBN numbered symposium proceedings. Please note that the deadline for submitting proposals is 21 September 2007. We will circulate more information as soon as the program develops.
Please join us if you haven't already!
If you are interested in our work and have not yet notified us of your interest, please contact Helena Haapio, and we will add your email address to our mailing list. This is your opportunity to shape the direction of the ProActive ThinkTank and to share your experience, expertise and ideas with like-minded individuals.
We look forward to seeing you at these and future events and to receiving your thoughts, ideas and comments.
Contacts
Helena Haapio
Linda Baines
Claude Mayer
Kaisa Sorsa
Eric van de Luytgaarden