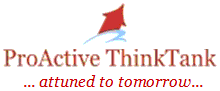 ProActive ThinkTank Update December
3 December 2007
Dear All,
Welcome to the third ProActive ThinkTank email Update.
There has been significant activity since our second email Update on 23 October 2007.
IACCM EMEA Conference & Academic Symposium 7 - 9 November 2007
A number of ProActive ThinkTank participants and supporters attended this event which was held at The Savoy hotel in central London. We conducted several sessions and presented various papers including:
Using Risk to Drive Creativity, Innovation and Trust – Edward (Ed) Dauer (keynote)
Prevention Beats Cure – Using proactive techniques to reduce contract and relationship risk – Helena Haapio, Linda Baines and Sari Lintumaa
An Overview of Proactive Contracting – Helena Haapio and Linda Baines
Responsible Business – How to make the supply chain commit to it – Kaisa Sorsa
Making and Managing Clean Identity – Tarja Salmi-Tolonen
Service Design as a Basis for Successful Commercial Contracting – Katri Rekola
From Reaction to Proactive Action: Dispute Prevention Processes in Business Agreements – James P. (Jim) Groton and Helena Haapio
Most of the papers and presentation materials are available at the IACCM Library or contact someone on the Core Team if you would like to see a copy.
Ed Dauer, a pioneer of Preventive Law and one of the ProActive ThinkTank's strongest supporters, played an active role in our presentations at the Academic Symposium. We also conducted Round-table sessions and held a social networking event one evening with current and potential new participants; this was very successful.
Finnish Project Management Days
Our series of joint meetings with the Finnish Project Management Association's Contract Management Special Interest Group and IACCM Finland continued with a session on "Managing and Governing by Contracts" at the main event and "Designing, Selling, Sourcing and Managing Services – Contracts: the Missing Link?" on Wednesday 14 November 2007. Taken together, more than eighty people attended. New events to be held in Finland are already in the works.
We Have Been Noticed!
Contractual risk management is a hot topic, particularly in the Nordic countries. It is also one of the focal points in our agenda. In the article Contractual Risk Management: not just a matter for lawyers! recently published in the Risk Consulting Magazine 2/2007, p. 22–24, reference is made to our website (see details below), where we plan to collect and share related resources. The electronic version of the Magazine in English, Finnish and Swedish can be found here.
The article is also published in the Liability Newsletter here. The Magazine and Newsletter are published by If P&C Insurance.
Supply chain management is another area where a proactive approach to managing relationships, contracts, projects and risk is of great importance. In the article Prevention beats cure — proactive contractual care for successful supply chains published in the October 2007 issue of IACCM's Contracting Excellence here, the text box at the end of the article explains how the ProActive ThinkTank came about and what our plans are for the future. The Main Points text box in the beginning says it all: Through our ThinkTank, you can get involved in initiatives that help to identify the skills, practices and tools that are required, and to share and strengthen them.
IACCM has also established the ProActive ThinkTank as one of the Communities of Interest / Working Groups here, and this has already attracted some interest. Please have a look at this and our website at www.proactivethinktank.com.
Future Plans
We have identified several projects that we are looking to take forward in the next few months:
Proactive prevention and resolution of business disputes
Productising (or productification of) Proactive/Preventive legal services
Developing a ProActive Contracting Capability Maturity Model
Looking at the role and competencies of ProActive professionals
Individual & organisational contract(ing) skills
ProActive tools and techniques
Developing a body of knowledge for ProActive Professionals
Taxonomy -developing concepts and terminology
Alongside this we are developing a business plan, developing and implementing a fundraising strategy and looking at how we can organise ourselves most effectively.
While details of our projects will be included in the next Updates, if you are interested in helping with any of these projects, then contact a member of the Core Team (see contact details below).
Future Meetings
We are currently looking into opportunities for us to get together in connection with the http://www.iaccm.com/americas/IACCM Americas Conference and Academic Symposium in April, 2008 and/or in Europe in Spring 2008.
We are collaborating with the Swedish Law & Informatics Research Institute (IRI), the Trust for Legal Information, the Swedish Society for IT and Law and the Nordic School of Proactive Law to put together workshops at a joint Conference that will be held in Stockholm 17 -19 November 2008.
Watch out for more information.
We look forward to seeing you at these and future events and to receiving your thoughts, ideas and comments.
Contacts
Helena Haapio
Linda Baines
Claude Mayer
Kaisa Sorsa
Eric van de Luytgaarden
PS. If you are interested in our work and have not yet notified us of your interest, please contact one of us, and we will add your email address to our mailing list. If you need to update your contact information or no longer wish to receive updates from us, please let us know.